Purpose of establishment
JDLA is a non-profit organization, aiming to promote Deep Learning technology as a driving force for Japanese industries to gain competitiveness in the global stage.
Therefore, industries that utilizes deep-learning technology and experts gather to promote usage of this technology in industries, human resource development, advises public organizations and industries, international collaboration and public speaking to ensure healthy development.

Message from the Chairman
Deep Learning Association was established with a motive to promote competitiveness among Japan's industries. It is formed by enterprises that utilizes Deep Learning Technology in their businesses.
The rapid advancement in Deep Learning Technology in 2012, boosted performances in technologies like image recognition and sound recognition. Machines are able to "see" different situations and it compatibles with the manufacturing industry. We are able to solve the problems caused by the declining in population and it is a big opportunity for Japan. Many other countries are also quick in adapting with this new technology. If we want to be competitive on the global stage, I think we have to be quick in expanding this new [Deep Learning Industry].
In order to achieve this, we have to develop new talent. Not only we have to scout for talents that has deep learning knowledge, we also need talents that understands the possibilities and limitations of the technology to fully utilize this to solve real world problems. Deep Learning is not omnipotent.
There are many types of data that is being used in this field. Some data is best used for Machine Learning and some is best used for Deep Learning.
A person that can fully understands Artificial Intelligence, Machine Learning and Deep Learning in an organization is a very important factor in promoting the advancement of this technology in this industry. At the same time, talents that are able to develop softwares that uses Deep Learning are largely insufficient. I hope for engineers, researches and students from various fields to be able to learn this new skill.
There is no good or bad in Artificial Intelligence, its characteristics is derived from [There is no definition of Artificial Intelligence]. Due to the low tolerance of implementing this technology, anything and everything can be called artificial intelligence. There is also a possibility of over expectation. That is why in this field it is very important to have a certain level or knowledge and skill. This association's first and most important activity is to carry out tests. User companies and engineers are required to have a certain degree of knowledge in other to carry out practical discussions or develop businesses.
Moreover, in order for the [product of the learning results] to be widely used by society, there is a need for legal systems, privacy laws, moral ethics to be discussed. This is where the association can also organize discussions or events that include the country's representatives and companies or societies that provide deep learning services.
Before the time of establishment, companies that are involved in deep learning and startups gathered and discussed for a year about establishing this association. The motive of establishment is to promote competitiveness among industries and to expand companies that are developing deep learning technologies. Although deep learning is now only seen as a machine learning technique, it is a technology full of possibilities. It plays a very important role in the advancement of artificial intelligence. I hope that many companies, experts, engineers and researches agree with our activities and we look forward for your active participation in our association.
Japan Deep Learning Association
Chairman
Association Outline
Japanese Name
一般社団法人 日本ディープラーニング協会
English Name
Japan Deep Learning Association (JDLA)
Chairman
Yutaka Matsuo Professor, University of Tokyo
Board of Directors

| | |
| --- | --- |
| Takeshi Izaki | Senior Director of Enterprise Division, NVIDIA |
| Arisa Ema | Associate Professor,The University of Tokyo |
| Naoaki Okazaki  | Professor, School of Computing, Tokyo Institute of Technology |
| Yousuke Okada | CEO, ABEJA |
| Tetsuya Ogata | Professor, Waseda University |
| Taichi Kakinuma | Lawyer, Storia Law Office, P.C. |
| Takayoshi Kawakami | CEO, IGPI Digital Intelligence, Inc. |
| Mitsunori Nanno | Former CEO FiNC Technologies |
| Keita Nishiyama | Visiting Professor, Institute for Future Initiatives, The University of Tokyo |
| Hironobu Fujiyoshi | Professor, Chubu University |
| Satoshi Yagi | Executive Operating Officer, FUJISOFT |
| Ryutaro Okada | Executive Director, JDLA |

Special Advisors

| | |
| --- | --- |
| Hiroshi Komiyama | Former President, University of Tokyo |
| Isao Taniguchi | President,National Institute Technology |
| Akio Mimura | Honorary Chairman,Nippon Steel Corporation |
| Nobuchika Mori | Eminent Guest Professor,Center for Advanced Research in Finance ,The University of Tokyo |

Auditor

Taiji Edogawa   Representative Partner, EDiX Professional Group Edogawa Certified Public Accountant Office

Date of Establishment
1st June 2017
Location
Kokusai Building 7F,3-1-1,Marunouchi, Chiyoda-ku,Tokyo 100-0005
URL
www.jdla.org
Media Partners

AINOW (http://ainow.ai/)
AI-SCHOLAR (https://ai-scholar.tech/)
Ledge.ai (https://ledge.ai/)
AVILEN AI Trend(https://ai-trend.jp/)
aiboom(https://aiboom.net/)
AIsmiley(https://aismiley.co.jp/)
Organization Structure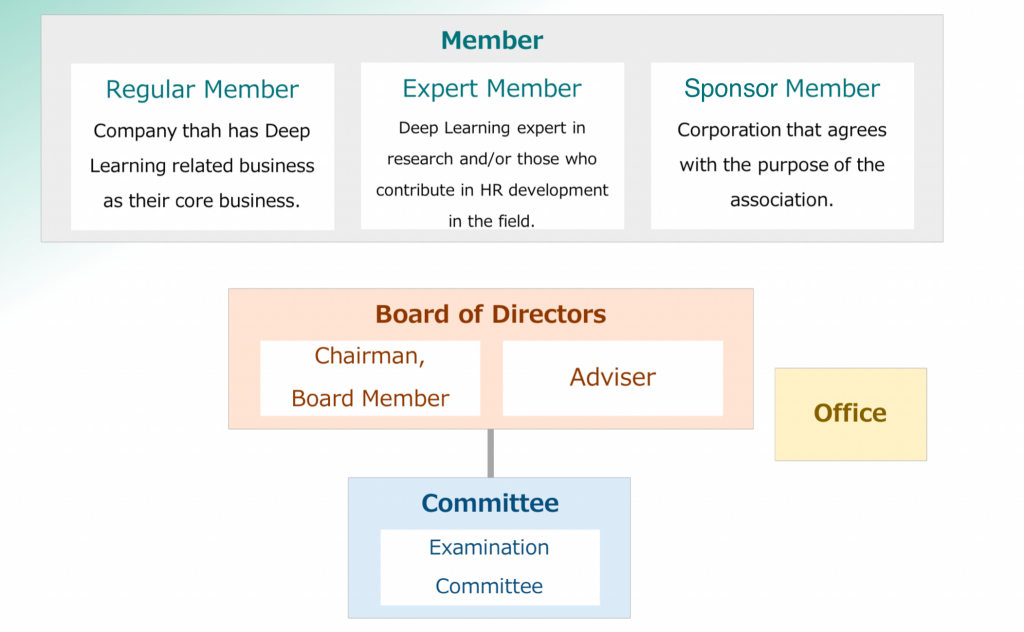 Membership Information
Board of Directors
The Board of Directors consists of the chairman, board of directors, auditor and special advisors.
Committee
Human Resource Development Committee
To ensure the skillsets of application of deep learning, this body plans and executes the JDLA exam. This includes preparation of exam questions, editing and execution of the examination.
Membership Information