Association activities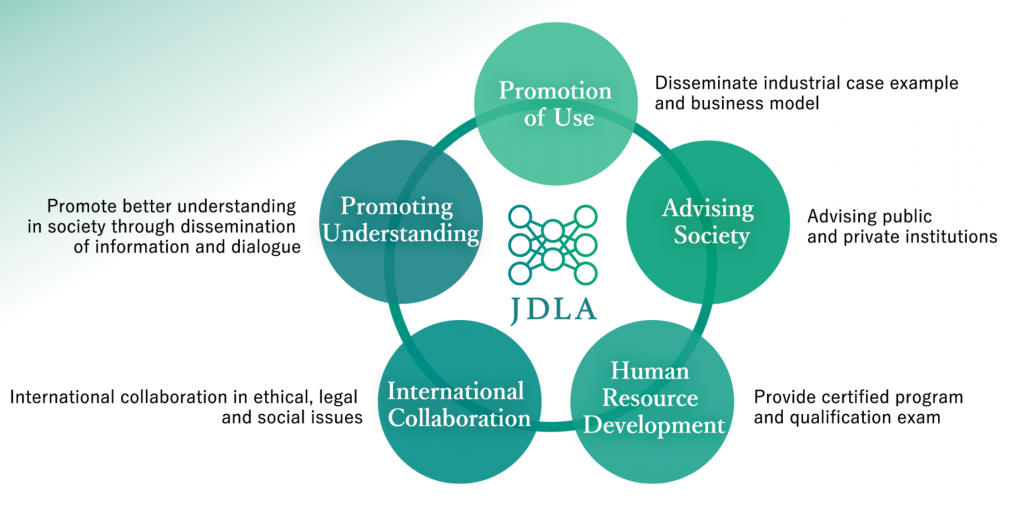 1.Promotion of Use
By organizing events like conferences and workshops, JDLA aims to provide information on the real-life application of deep learning technology. Moreover, by setting up various work groups based on different fields, we aim to sort and solve many problems involving technical problems and legal issues.

2.Advising Society
To ensure ethical and healthy development, we provide information to the administration and legislation department of public organizations.

3.Human resource development
JDLA aims to cultivate talents that can utilize deep learning technology in businesses ( Generalists ) and also talents that can develop deep learning (Engineer). We define the necessary knowledge and skill sets that are required in the examinations and also provide training through JDLA certified programs.
4.International collaborations
When developing deep learning technology, the ethical, legal and social problems that are related will be discussed internationally with various bodies around the world. By having these collaborations and various discussions, JDLA will announce these activities in Japan or report activities inside Japan on the international stage.
5.Promoting understanding
The term [Artificial Intelligence] is a very general term at this current stage. There are some individuals over expecting and also people who are worried what it would cause the society. JDLA aims to promote understanding of deep learning through various activities.

Awareness and Information
Applications of Deep Learning
In order to promote awareness of deep learning technology, JDLA collects applications of deep learning across the country starting from research to the end results of the product. These applications are collected and announced publicly. We welcome any applications of deep learning technology regardless of the size of organization, self nominated or nominated by others. We also welcome partners that are interested to collaborate in collecting applications of deep learning.
Study Group
We operate theme-based study groups to carry in-depth discussions and deliver practical initiatives aligned with the purpose and core activities of JDLA. Through series of study meetings with active participation of JDLA members, it aims to develop useful outputs for practice and facilitates implementation of deep learning technology in the society.
Membership Information